Build Your Decks
Find the right card using our powerful in-app search engine. Get instant deck statistics, mana curves, test sample draws and more!

Manage Your Collection
Easily input and keep track of your cards. Quickly find missing cards that your decks require and estimate the value of your collection.

The Decked Builder platform is also available on the Android, iPhone, iPad and the Mac. Take your decks and collections everywhere you go!

Our Card Cam technology will allow you to recognize cards using your web cam. Easily input your decks and collections without typing!
Unrivaled Deck Building Experience
Find the card you want
Anytime, anywhere – no internet required!
Quick filters make searching easy
Find text, name, abilities, type & more!
 Use the Statistical analysis to improve your decks
Examine your deck from different viewpoints: mana cost, color, card type and more!
Find missing cards from your collection
Quickly draw and play out numerous hands:
Does your deck mulligan well?
Do you have enough mana sources?
How quickly you can deal 20?
Check out the latest winning lists
Multiple formats – Standard, Modern, Pauper and more
Easy importing and sharing of the lists you like
Price your cards and decks through one of many available vendors: Cardshark, TCGplayer, MagicCardMarket.eu and more!
Purchase missing cards with a single click
Always up to date prices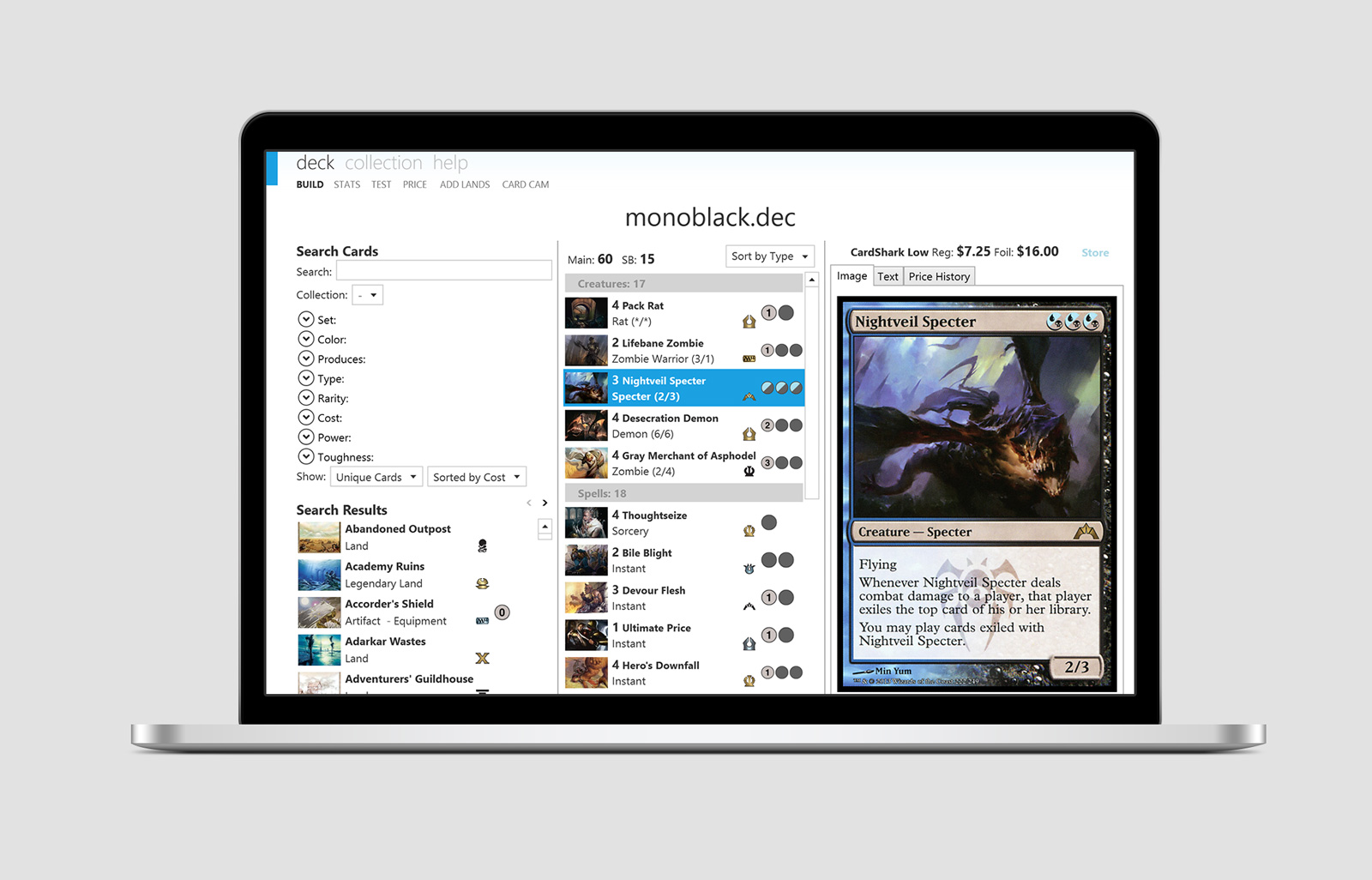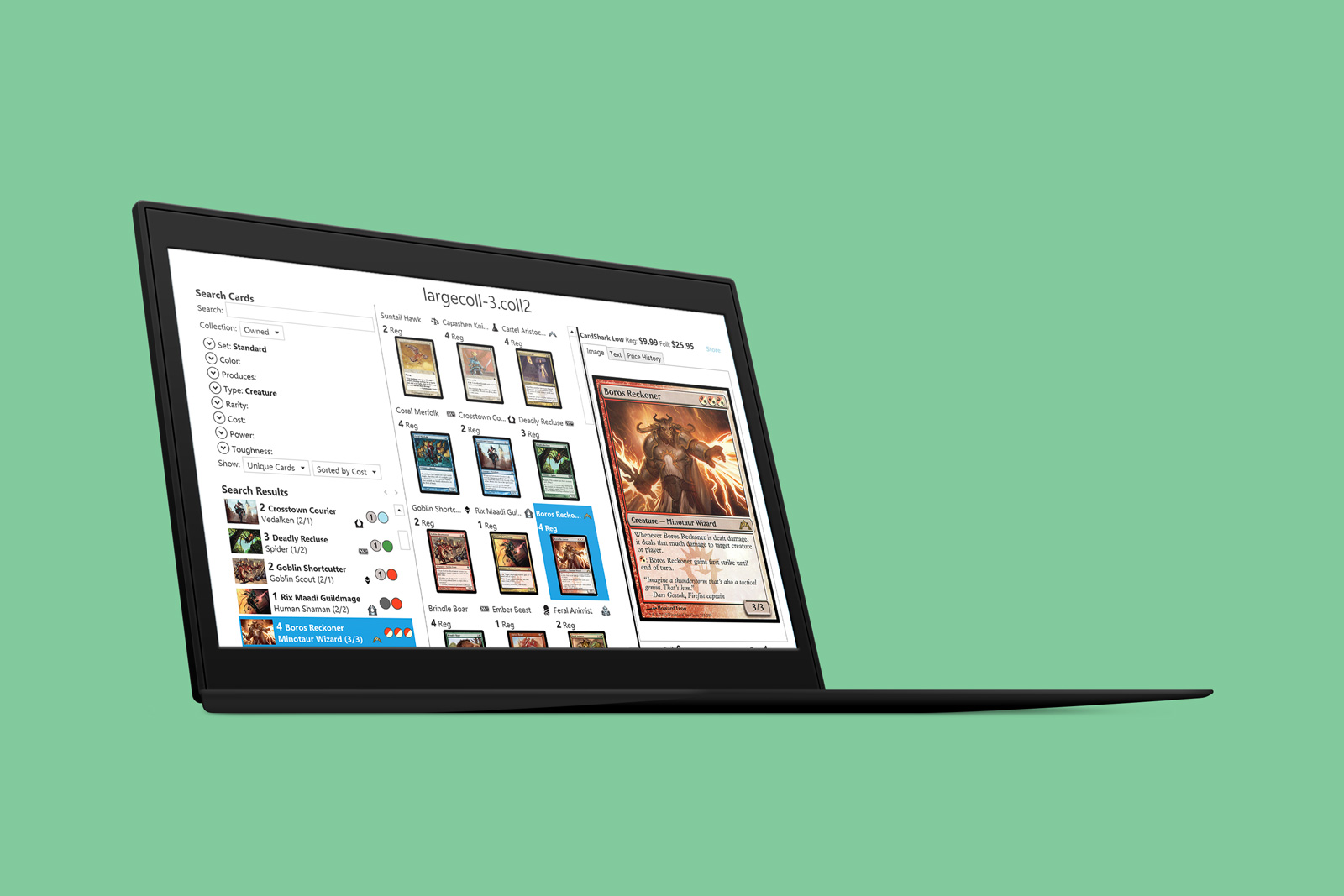 Track All Your Cards
Decked Builder also includes a full featured card collection manager. This will allow you to:
Easily input and start tracking your collection of cards
Search your collection for specific cards using handy filters
Quickly check for cards in your deck that are missing in your collection
Estimate the value of your collection
Synchronize your collection with your other devices via Dropbox
The Future Was Never Closer
If you buy the Card Cam add on, adding cards to your collection or deck is easier than ever! Just swipe the card in front of your webcam.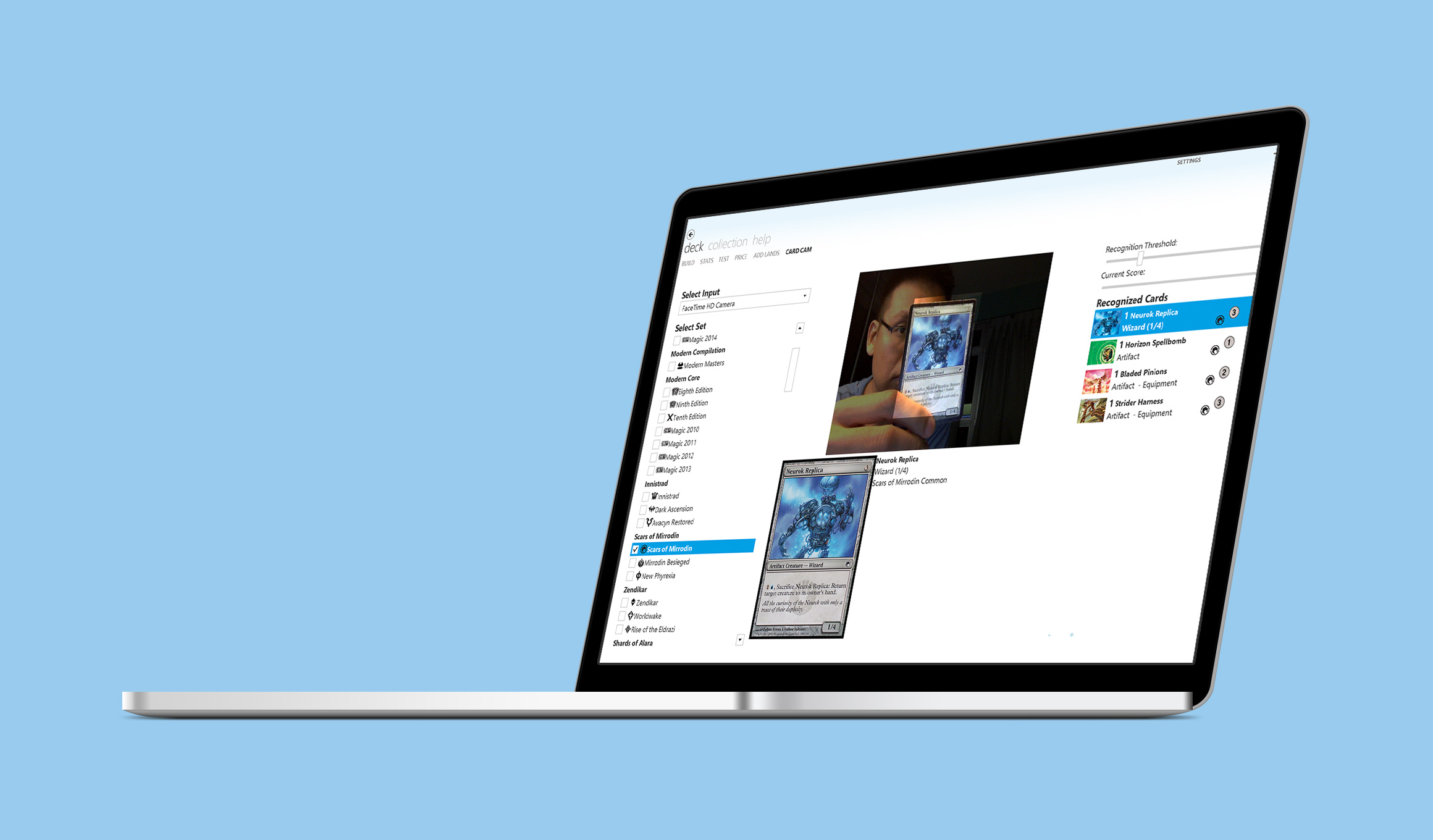 Don't Take Our Word For It
Hear what others have to say about our software.
This is the program I recommend for anyone willing to spend … on an MtG application. I'm one of those people who will generally take the free alternative over the paid app any day, but I'm actually happy to have spent the money on this one. It has a ton of very cool features, runs smoothly, and even has RSS feeds for several top MtG sites.
Michael Evans, GatheringMagic.com
"Decked Builder is the most versatile solution for Magic: the Gathering players — it has close integration among all it's versions and is reasonably priced – making it indispensable for the experienced player."
Pavel Dmitriev, AppleInsider.ru
You can find Decked Builder on the iTunes App Store here for $5.99 on iPad (Requires iOS 5.1), and here for $3.99 on iPhone and iPod Touch (Requires iOS 4.0). If you think it's pricey, consider that I bought this app and use it on my iPhone and iPad. Yes, I bought it twice; it's THAT good.
Dave Rehm, Castinresponse.com
Try It For Yourself
Start Building Decks with Decked Builder for Windows Today!
About Us
Decked Builder produces a suite of cross platform products for building and drafting Magic: the Gathering.
You can contact us via email at [email protected].
Licensing
Decked Builder is not affiliated with, endorsed, sponsored, or specifically approved by Wizards of the Coast LLC. This website may use the trademarks and other intellectual property of Wizards of the Coast LLC, which is permitted under Wizards' Fan Site Policy.
Trademarks
Wizards of the Coast, Magic: The Gathering, and their logos are trademarks of Wizards of the Coast LLC in the United States and other countries. Copyright Wizards. All Rights Reserved.